Artist's Intention: to create the art for your healing, creativity, good luck and more...
Title: Surfing the Universe
Artist: Ottawa artist Elena Khomoutova
Sizes: from 10x8 inches (250x200 mm) to 24x20 inches (600 x 500 mm). Check out pull-down options to see all available sizes, types, and prices of prints...
Condition: New
Limited Editions: one of 77 prints for each design size, check out pull down options. Art Prints are individually printed, energized, hand signed and numbered by artist Elena Khomoutova. Artist provides the signed Certificate of Authenticity, embossed with her special Seal. The Limited Edition Art Prints are museum quality collectible prints.
Medium: limited edition fine art giclee prints on paper, canvas and embellished prints on canvas. More about different kind of prints => here...
Description:
Are you looking for a cool Art gift?
Exhausted and

overwhelmed

from a guesswork?
Still not sure what to get?
I know your feelings. It's always hard for me to choose a gift for somebody else, even for myself. But You are in one small easy step from solving this problem, because you are about to discover a magic print that brings ahhhhhh...
World-renowned metaphysical energy artist Elena Khomoutova created this vibrant "Surfing the Universe" embellished print for your joy, love, healing, well-being and more....
In the middle of the print you see a Human Being joyfully and gracefully surfing into opening of giant wave tube. The wave is transforming into the Galaxy spiral shape with stars toward edges of the canvas. A bright stream of light shines from the heart-shaped center opening of the wave. The surfer is flying with the passion and confidence. The composition suggests an idea that we need to open our Heart and let Inner Light shine out bright and illuminate all our creative potentials. Did you notice the Pleiades (the Seven Sisters) star cluster above the surfer? Find image of an Owl just above the surfer's head. Two stars (Atlas and Pleione – parents of the Seven Sisters) are the Owl's eyes. The Owl's wings are embracing Light of the Heart and appearing behind the human shoulders. It is symbol of integrity, wisdom, and co-creation. One of the parables unveils the story about Pleiadians, that came to the Earth about 100,000 years ago. They created a genetic "imprint of God" in human DNA. Now is a good time to use this hidden treasure. Claim your mastery and enjoy your creative surfing of the Universe. Good luck!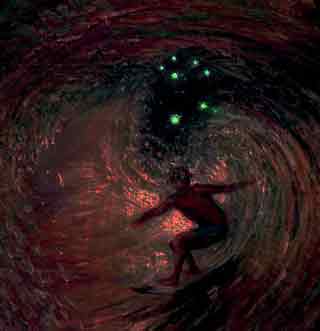 The Seven Sisters constellation (above the surfer) created with a special paint that accumulates light and glowing in a dark (only on emballished prints). Seven stars painted to bring good luck to you.
Read below what people are saying about Elena Khomoutova's Fine Art: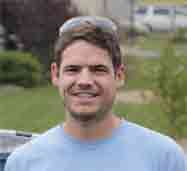 "After having traveled through Central America for 5 months, and surfed for a good portion of that time, I developed a passion for surfing and for traveling. My passion for the pure joy, freedom, and peacefulness that surfing brings combined with the incredible vastness and beauty that this world contains for us to see, are greatly portrayed through this incredible painting "Surfing the Universe" by Elena Khomoutova. This painting reminds me of times during my trip when I was surfing a wave, and it was just me and the wave, the ocean, the world, the universe. Being one of the inspirations for this painting, I can speak first hand that this painting represents exactly how I often felt during the high of riding a wave in Costa Rica. Surfing allows you to be one with yourself and one with both the physical elements of the world and metaphysical energy of the universe, creating a joy for life and a passion for the incredible existence we are privileged within this world. This painting to me is a perfect depiction of the beauty of the sport of surfing and the empowering connection it creates between the surfer and the universe (s)he is living in. This artwork is magical, excellent work Elena!"-Kyle Running -Entrepreneur and World Traveler
"It is amazing how Elena's art looks in our home ... It is hard to explain it, but the pieces just glow!"-Fernando Bello
Join many of those who already enjoy Metaphysical Energy Art!
Read and watch video testimonials about Elena's Art here.
Seven similar objects and symbolic image of a hidden owl figure are in the print. The number 7 represents good luck and prosperity, and the owl wisdom of love and oneness with Creator of All That Is. Can you find seven similar objects and the owl on the print?
In the middle of the painting you see the Pleiades (Seven Sisters) constellation. The hidden image of an owl in the artwork suggests a thought that a secret wisdom could be hidden deep inside... Did you find it? Take a look within yourself and find your own hidden energy, healing, joy, wisdom and abilities to create miracles in your life.
The fine art print on canvas or paper is the perfect gift for Birthdays, Holiday, Valentine's Day, Housewarmings, Weddings, Engagements, Christmas, Graduation, Mother's Day, Father's Day, any romantic occasion or a magnificent and exciting treat for yourself.
The art painting is created to:
shine joy and healing to your life
support your well-being
bring love and light to you
Join many of those who already like spiritual art from LightFromArt.com!
Read and watch video testimonials about Elena's Art here.
Imagine how you'd feel☺if you have this beautiful art right now on your wall...
Take advantage of today's awesome promotion

☺

(see details here).
Use your chance to bring joy, healing and good luck into your life with the magic art.