Video and other testimonials about
Elena Khomoutova's and Alex Khomoutov's Art
---
---
"It is amazing how Elena's art looks in our home ... It is hard to explain it, but the pieces just glow!"-Fernando Bello
---
" ..I realized that I have received additional energy from the paintings. I felt powerful ... paintings with powerful, light, spiritual energy... " -Elena Emelianova - Obolensky
---
"Thanks a lot for your very pleasant cooperation.
...Only those who see the invisible can achieve the impossible. "
-Michel Landreville, Director General, Publi-Tact
---
"I was very impressed with several of the floral paintings, and I do need something positive and uplifting for the office... the room where I plan to create the books."
-Sian
---
"Hello!
The cat print arrived today ... safely and in excellent condition. Thank you for shipping promptly and for sending the additional art card. It is beautiful, too. I have been to your website and I love your paintings. I like alot of color in my life and your work appeals to me.
The cat art print is going to my son and daughter-in-law''s home as they have an orange cat very similar to the one on the art print."
-Mary
---
"Dear Elena,
I received the "Kitten" print and it is beautiful. You do lovely work! I am very pleased with it!! Thank you & Take Care, Lisa"
-Lisa Lack
---
"...what I find fascinating, is that she finds the greatest pleasure in working with people to capture those special places or images that we each cherish in our minds.
They might be a special memory from childhood or they might be a dream of something we have to reach.
...But that''s what makes it so special to her clients, and satisfying for her."
-Mike Ouellette, from letter to CJOH TV
---
"Dear Elena, this note comes to tell you how much I enjoy your paintings that are on the UNICEF holiday cards. I am a physical educator thus I value highly people doing physical activity as part of their daily activities as shown in many of the scenes you have painted...
Fondly, "
- Janet P. McCleery, Professor of Physical Education, Norwich University
---
"You paintings are fantastic.
...I have them hanging on my living room walls and just love them."
-Evelyn Grant
---
"Elena- as the proud owner of "The Rose" I have already learned to appreciate your work. I look forward to maintaining contact with an obviously highly talented artist."
-Richard Brzozowsky
---
"I fell in love with all your paintings and particularly with "Size means nothing". My parents simply were fascinated with the way you use light and reproduce it in your paintings. "
-Pascale
---
"Dream like landscapes, children,... what more is needed to inspire peace and love and beauty. Thank you Elena to promote such thoughts with your brush and your heart. "
-Dimitri Apouchtine, Artist
---
"Pleasure coming across you. Our work sees the world from such completely different angler. "
-Diana Coltridge, 1995 RMOC Exhibition Coordinator
---
"Dear Mrs. Khomoutova:
...I had the opportunity to present pieces of work to key dignitaries on my recent trip to Japan and Taiwan. Amongst others, examples of your work were presented to Governor Suzuki of Metropolitan Tokyo and the Deputy Mayor of Osaka, Mr. Eiichi Sakaguchi.
...Your work was positively commented on by everyone who received them for their uniqueness.
I trust that I shall have the opportunity to present other examples of your charming work in the future."
-Jacquelin Holzman, Mayor of Ottawa
---
"I want to thank you very much for the beautiful leaf painting of the Parliament Buildings. ...I shall proudly display it in my office where many can enjoy it.
My very best wishes for your artistic and personal success."
-Louise Rachlis, Editor, the Ottawa Citizen Newspaper
---
" Dear Mrs. Khomoutova,
...I sent you a letter a few days ago ...to tell you how proud I am to exhibit your paintings. I love them!
A couple of weeks ago two young lovers came to the Gallery, I spoke with them and showed your works. A couple of weeks later the young man came to the Gallery before leaving Quйbec for Pragues and bought the "Seven kisses" and Fireworks" to offer them as a gift for his lover. The paintings were perfect for them.
Thank you for the magic moment you put in our lives with your paintings."
-Céline Gagnon, Galerie Petit Champlain
---
Testimonials about Commissioned Art Paintings and Portraits by Elena Khomoutova.
"Elena,
Thank you for creating a family portrait of my family. My mother passed when I was very young and no familly pictures were yet taken. You have used your amazing talent to create a treasure for me and my children to charish. Everyone is amazed at how you are able to bring the people to life. All I can say is thank you! I will treasure this portrait always!
Sincerely,"
-Mary MacLean-Bradley
---
"Dear Mrs. Khomoutova:
Please accept my heartfelt thank you for the portrait on the /real maple/ leaf. ...You will be pleased to learn that your leaf painting depicting my likeness has become a lasting record of your visit, having been placed in the City''s archives. "
-Jacquelin Holzman, Mayor of Ottawa
---
"I would like to thank you for painting a picture of my brother. My brother, Terry passed away three years ago. He was a very special part of my family. The picture you painted is a Christmas gift for my parents. I cried when I just looked at it, you have a God given talent. Thank you so much; you will never know how special your paintings. May you have a happy holiday season. God bless!
-Tracy Buck- a very happy customer "
---
"No words could begin to express our appreciation for the portrait of our late daughter, Pauline Elizabeth. "
-Linda, Paul
---
Elena: I want to thank you so very much for the wonderful painting you did of my parents. I had it done for their 50th wedding anniversary...Their tears will fall, but they will be tears of happiness.
Many thanks! "
---
"Thank you, Elena for painting that exquisite painting for our beloved principal. We are presenting it to him today at a party after school. I know he is going to be just trilled and overjoyed with it....
You are a very talented artist and this gift is so special. Everyone I showed it to a school thinks that the painting is awesome. They all want to have one too..."
- Judy Wessels and the Briargreen P.S. staff
-Ionna M. Smith
---
"Elena,
I've just viewed your recent works on the site promoting your upcoming showing in Orleans. WOW - you never cease to amaze. I still treasure the portrait you did of my late brother Terry. I also had you paint a picture of my parents. It was a gift my Mother treasured. Both my parents have passed on, but each time my sisters or I walk past the portrait you did...it feels as though Mom & Dad are really looking at us. You are a very special person and blessed with a God-given gift of creating portraits that resonate and give such comfort and joy to those who receive them. Your other works that are non-portraits are equally beautiful. I especially love "Precious". I wish you continued success. God bless and keep both you and Alexander."
-Tracy Buck-Rafi
---
Video testimonials about Alexander Khomoutov's Art and photographs
---
---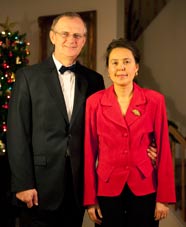 "....Thanks Alex. My dream came through..."
-Sergei
---
" ...Thanks very much, Alex. Your photograph is beautiful; or should I say brilliant?..."
--Dawn and Mike
---